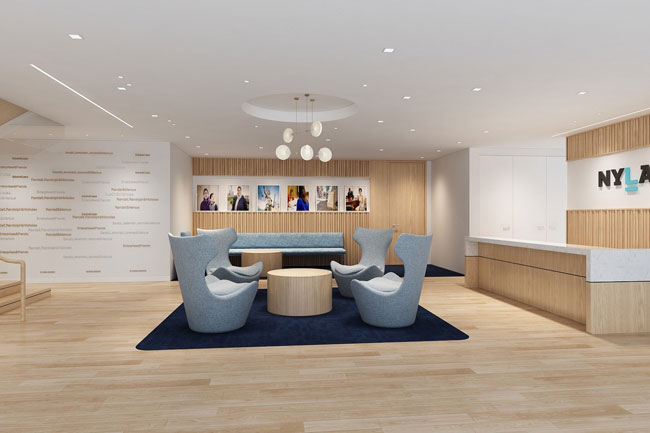 Spacesmith Completes New Headquarters for New York Legal Assistance Group
The international architecture and interior firm Space blacksmith completed the new headquarters of the New York Legal Assistance Group (NYLAG), a civil legal services organization renowned for fighting economic, racial and social injustice.
Spacesmith, who worked with developer GFP Real Estate LLC and broker Cushman & Wakefield on this two-story workplace project, took NYLAG from its three-story building to a 20% thinner footprint, creating an office efficient connected by a staircase which is also the reception of the members of the staff and the customers visiting. The office layout includes a variety of private, shared and open spaces to meet the needs of the legal service organization, all within strict space allocations and budget parameters. The new, modern environment makes it easier to run the workday, while also conveying the nonprofit organization's commitment to quality free legal services that are provided in an atmosphere of security and advocacy.
"Consolidating NYLAG offices into a more cohesive and welcoming space proves that well-designed workplaces can help ensure the well-being and productivity of nonprofit organizations and their interactions with clients in the office for better more successful results, "said architect Marc Gordon, AIA, partner of Blacksmith of Space. "Streamlining the head office by paying close attention to the needs of its staff and clients in an updated, aesthetic and efficient manner affirms not only NYLAG's position as a leading provider of civil legal services, but also its daily commitment to help people facing justice issues. "
The design of the non-profit association's admission rooms, which Spacesmith crafted incorporating cutting-edge trauma-aware design principles, such as a warm color palette and natural finishes such as wood that Helping to minimize the emotional stress of new clients during admission was of paramount importance. to treat. Other zones created in the 5203-m of the organization2 The workplace (56,000 square feet) includes smaller but more efficient private offices, open workstations, as well as meeting rooms ranging from a one-person chatting space to a conference and meeting room. of 59 people.
To maximize interior natural light in as many spaces as possible, open workstations line up the longest sides of the building for sun exposure, with glass facades along the closed offices on the lower sides. shorter bringing more daylight. In guest reception rooms, a translucent film covers portions of the glass walls defining the workplace for added privacy and a greater sense of security for guests. Solid wood doors and insulated architectural details contribute to acoustic privacy and soundproofing.
A cafe with bar and bench seat not only inspires a sense of belonging to the staff, but also features a modular design that can be transformed into a meeting or event room if needed. Other amenity spaces consist of breastfeeding rooms, small pantries, and meeting rooms of varying sizes to accommodate the team, collegiality and camaraderie inherent in NYLAG operations.