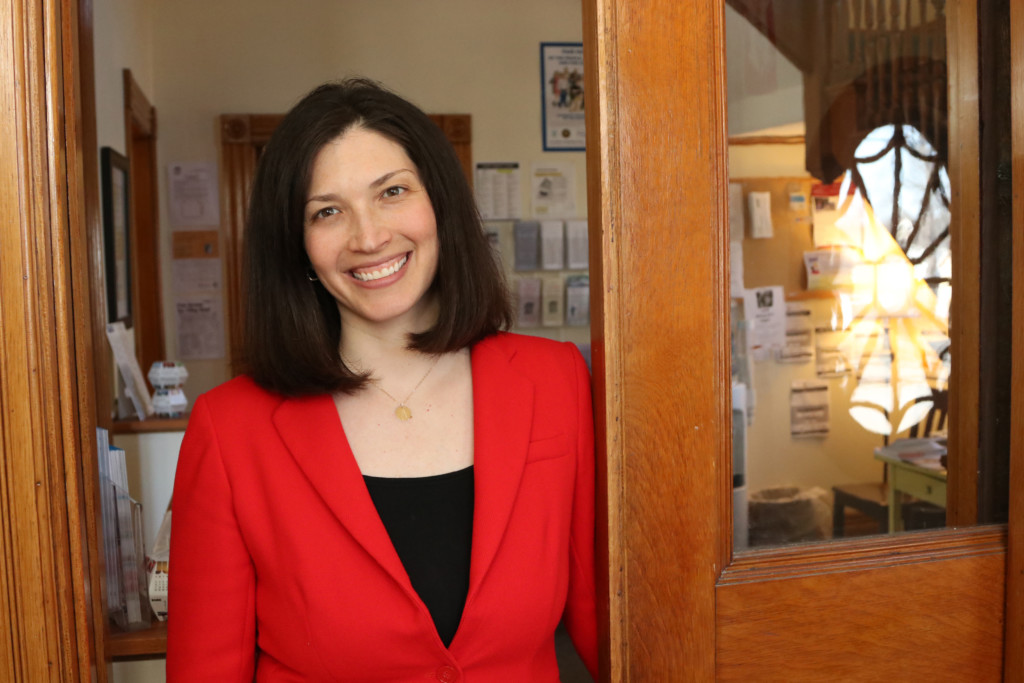 Q&A with Sarah Mattson Dustin, Executive Director of NH Legal Support
When Sarah Mattson Dustin took over as CEO of New Hampshire Legal Assistance in November, it was a homecoming. She had first served as a clerk at the civil legal aid organization in 2003 while attending Harvard Law School. She worked at NHLA from 2006 to 2017 as a jurist, attorney, project director, and policy director. She most recently served as Policy Director of the New Hampshire Women's Foundation.
A New Hampshire native who lives in Contoocook with her husband and two children, Mattson Dustin's experience with the state budget process will be put to use in the months ahead. Governor Sununu's latest budget proposal cut state funding to the NHLA from $1.2 million in 2018-19 to $650,000 in 2019-20. The Judicial Council had recommended annual funding of $1.5 million. State funding is up to 15% of the NHLA's annual budget.
"It would be a staggering cut to the bone that would cut public funding for the NHLA below what it was at the height of the Great Recession," Mattson Dustin said last month. If not reinstated, the cuts would impact a wide range of services, federal grants and potential loss of staff. NHLA served over 6,600 clients in 2018.
She recently spoke to NH Business Review about the way forward for the NHLA and what makes it an underappreciated but important force in the state.
Q. Why did you go straight to New Hampshire Legal Aid after Harvard Law School?
A. I went to law school knowing I wanted to practice in New Hampshire, but I didn't know I wanted to be a legal aid lawyer. I spent the summer after my first year as an intern at the Manchester office of the NHLA. I still remember many cases I worked on – the experience opened my eyes to the many barriers faced by seniors and low income people navigating our civil justice system. Legal Aid helps level the playing field so that everyone can be shaken up fairly, and it's a privilege to have a hand in this. I spent a year after law school clerking at federal court in Concord, then was lucky enough to return to NHLA with the support of a Skadden scholarship.
Q. What would readers be surprised to learn about the NHLA?
A. Most people don't realize there's a difference between gentry advocacy – primarily provided in Granite State by New Hampshire Public Defender, one of the nation's top gentry advocacy programs – and the civil legal aid, which we do at the NHLA. You don't have the right to a lawyer in civil cases, even those that concern your most basic needs, such as housing, health care or the safety of an abusive partner.
Those who know us don't always understand how small we are and how great the need is. They are surprised to learn how many times we have to say "no" to eligible clients, with approximately 15 people each week receiving very limited services or being refused outright.
Q. Do you believe the legislature will reinstate the proposed budget cuts?
A. Over the years, the NHLA has enjoyed enduring bipartisan support. This includes the last biennium, when Governor Sununu included $1.5 million for the NHLA in his budget proposal. Our funding has rarely been politicized, and we will look to lawmakers on both sides of the aisle to ensure that the NHLA can continue to provide our essential services.
During the Great Recession, our program shrunk significantly, including closing offices in Littleton and Nashua. We've served thousands less and still haven't completely rebuilt. That's why we know exactly what will happen if the legislature does not prioritize funding for civil legal aid. But the core of what we do hasn't changed: we help implement the fundamental American process of justice for all, and we use the law as a tool to alleviate the harmful effects of poverty.
Q. How has the organization evolved since your first internship in 2003?
A. Sixteen years ago, I was part of a new generation of legal aid attorneys in New Hampshire. Now we have another new generation, and I'm proud that they're pushing me and the program to keep evolving and improving. We are constantly looking for new ways to serve our clients, such as partnering with "Family Justice Centers" that place on-site legal aid attorneys in locations where victims of domestic violence can meet law enforcement. law enforcement, crisis center personnel, health care providers, and others.
Q. How has the demand for NHLA services changed over the past decade?
A. The demand is constant and overwhelming, but it is changing. During the Great Recession, many people needed help preventing foreclosures and accessing unemployment insurance benefits. In today's surprisingly tight rental market, preventing homelessness is more important than ever, as it's even harder for someone to get back on their feet after becoming homeless.
We are also seeing new trends resulting from New Hampshire's aging population, such as increased exploitation and financial abuse of the elderly. The opioid crisis affects our customers in multiple ways.
Q. How can the public help?
A. We encourage our colleagues in the private bar to connect with our partners in the New Hampshire Bar Association's pro bono program, which can help them improve access to justice by representing someone who cannot afford to pay. a lawyer. We are grateful for financial contributions to our annual fundraising effort, the New Hampshire Campaign for Legal Services (nh-cls.org). And of course, this year everyone can call their legislators and urge them to support the Judicial Council's recommended budget of $1.5 million for civil legal aid.