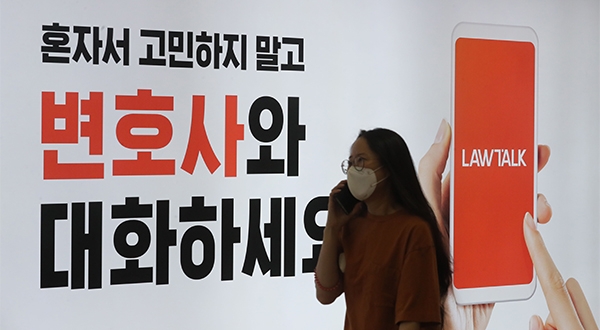 Prosecutors dismiss complaints against legal advice app Law Talk
Seoul Central District Attorney's Office fired accusations that the LawTalk app and its operator Law & Company Co. have violated the Lawyers Act and the Privacy Act because they are provided free of charge.
The app does not receive any commission from member lawyers and only earns from advertisements.
The Lawyers Act prohibits the acts of presentation or recommendation of an appointed lawyer.
Allegations that the AI-based penalty estimation service was being run despite not being a lawyer were dismissed as the service is provided free of charge.
The prosecutor's office also disputed the notion that LawTalk's motto, which claims to assess a case in 15 minutes by a lawyer, gives the misleading impression that the company provides legal services.
The prosecutor's office also dismissed another charge that LawTalk violated privacy law by unlawfully collecting court cases containing personal information because LawTalk obtained it through the country's official court website, leaving no evidence of unlawful tampering with its systems.
After a bar organization sued Law & Company at the district attorney's office in November 2020, the case went viral.