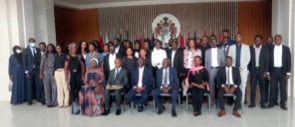 Gambia Bar Association concludes conference for young lawyers
The theme of the conference, held at the Sir Dawda Kairaba Jawara Conference Centre, was "Improving Access to Justice, Rule of Law and Human Rights for Young Lawyers in Gambia".
The event allowed young lawyers to share their experiences and knowledge as well as network on legal practices in the justice system.
It also aimed to consolidate efforts aimed at strengthening quality judicial services, empowering citizens to exercise their rights, increasing access to justice for all and fighting for a quality criminal justice system, effective and efficient based on prompt delivery.
Dozens of Gambians have recently raised concerns about the slow administration of justice with ongoing cases whose fate has not yet been decided by the courts, mainly due to the state of incapacity courts, either by a limited staff or by technical know-how.
Sheriff Kumba Jobe, president of the Center for Legal Assistance, said his organization is established to defend and protect human rights as well as provide free legal representation to people.
Jobe said that despite the many challenges they face, he is optimistic about a brighter future.
Salieu Taal, President of the Gambia Bar Association, said he was impressed with the young lawyers and advised legal practitioners, especially young lawyers, to uphold the values ​​of the bar.
Aissata De, UNDP country representative, said she was delighted with the participation of young people in various areas of life. However, she advocated for the inclusion of people with disabilities, women, children and other groups in accessing justice mechanisms.
Hussain Thomas, in his remarks on behalf of the Minister of Justice, said there was a need to improve access to justice. He referred to the lessons learned during the 22 years of the former regime, noting that it is necessary to have an independent judiciary.