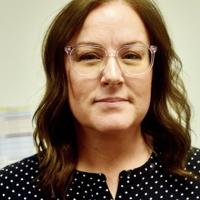 Ashtabula County Bar Association Honors Two Women | Local news
Two women were recently honored for their service to the legal profession by the Ashtabula County Bar Association.
Margaret Draper received a posthumous award for her professionalism in the practice of law during her career in Ashtabula County, said Joseph Humpolick, who has participated in the awards ceremony for many years. . Draper passed away this fall after a long battle with cancer.
Jenny Harper also received an award for her service to the legal community as a lay person as an office manager at the Ashtabula County Public Defender's Office in Ashtabula.
"Each year, a select committee solicits nominations for these awards from members of the bar association and votes based on a criteria of the organization's bylaws," said Humpolick.
Ken Draper received the award for his wife earlier this month.
"Margaret was a warm, decent person who was just a lawyer. She worked for many years with the county attorney and before that with the Ashtabula city attorney's office, "Humpolick said.
Ken Draper said his wife often congratulated the opposing lawyer if she lost a lawsuit.
"She touched so many people in the county," he said.
Ken Draper said his wife would have been very proud to receive the award.
Harper said she was honored to receive her award. She said she was an office manager at the Public Defender's Office for 19 years and didn't know anything about law when she started.
Harper said she has learned a lot over the years and loves that every day is different.
"For almost 20 years, she has scheduled court cases and office appointments and opened and closed files for an office with a large number of clients. She is an important reason the office has operated efficiently and professionally despite several staff changes and the COVID-19 pandemic. Without her, the county criminal justice system would have serious problems moving its case, "Humpolick said.
Harper said she enjoys working with people who are going through perhaps the worst times of their lives.
"I am very fortunate to work with such a wonderful group of people here at the Office of the Public Defender. It is a joy to work with each of them and it is an absolute pleasure to come to work every day, "she said.